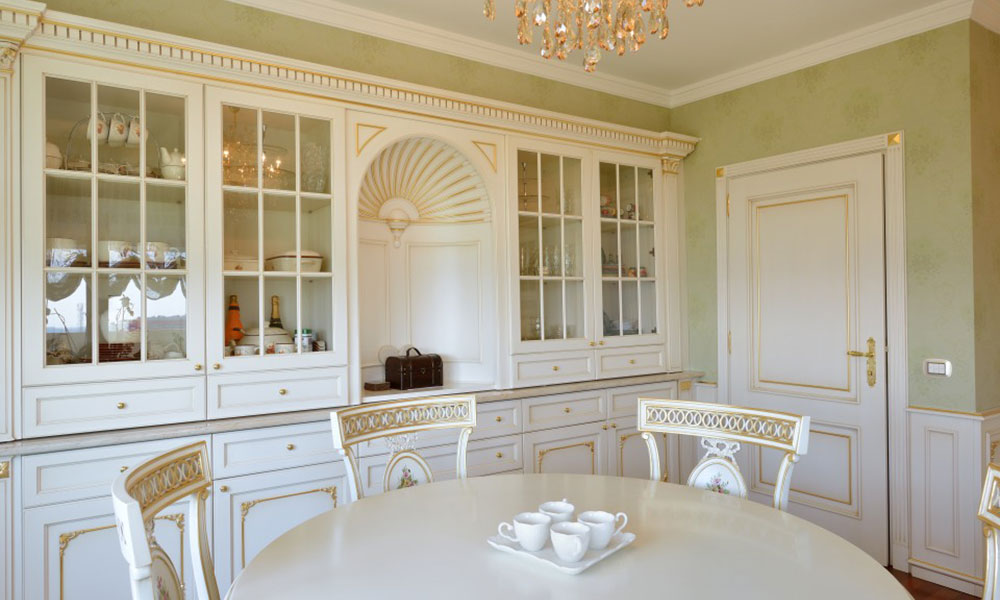 WOOD: TURATI BOISERIES' VITAL RESOURCE
"Wood is a noble and strange material" (Luigi Santucci) and, for Turati Boiseries, the true essence of its creations. For over fifty years, the projects and tailor-made works created by the company from Mariano Comense have been standing out for their great ability in forging and shaping wood with a careful sophistication and attention. From the rough stage, the skilled hands of the artisans and carpenters are able to create unique works of invaluable value and featuring an undoubtedly striking scenic impact. A warm, captivating material that, despite its strong technological progress, remains the undisputed protagonist of an elegant and characterful home. Turati Boiseries is able to satisfy the requirements of even the most brilliant and demanding customer.
For Turati Boiseries, in fact, wood is not a mere "building" material but a real, primary resource that has to be treated, molded and worked with mastery and respect. Turati leaves nothing to chance, not only during the design and construction phase, but especially in the most important moment: the choice of raw materials. True to its handmade handicraft roots, Turati chooses its wood with the goal of using every grain of material, in order to create classic and yet up to date pieces of art.
"Wood and its semi-finished products have many varieties and features: understanding which ones are the best to use is crucial if you want to create unique, high-quality projects. Through all these years, visually selecting and even touching the materials is still a very precious, almost sacred moment. In fact, the overall success of a project depends on that phase" – said Giuseppe Ferrante, head of production who has been working for Turati Boiseries for more than thirty years.
Thanks to its long experience in the industry and always respecting the solid traditions of Made in Italy furniture, Turati Boiseries has always used two types of material: spruce molding and birch plywood.
"Both are valid materials, able to fit different needs in terms of design. Multilayered wood is made of several layers of birch, while in spruce molding you can see the genuine solid wood strips, often used to meet the requirements of a customer who wants to see solid wood in the shape of rafters", the manager says.
"In addition, these two different types of wood can be used for different purposes: birch plywood features a better performance and sturdiness in damp environments, and is therefore used to make kitchens, drawer structures or boiseries in direct contact with the wall. Spruce molding offers instead a greater resistance to lengths, qualifying as the best choice in making furniture, doors, bases and shelves".
Wood panels with natural, valuable, living soul. In fact, the choice of the best wood does not only apply to purely aesthetic issues but also, and above all, to the choice of suppliers who share the same values in terms of sustainability and authenticity of raw materials. Reliance on production companies that respect the ecological cycle and protect the tree's growth phase and land use, in complete harmony with the rhythms of nature, is synonymous with quality and originality. For this reason, the wood chosen by Turati Boiseries is equipped with Catas Certification – Italian Institute for the certification in wood and furnishing -, which performs laboratory tests and research on finished materials and products, verifying their safety and quality. In addition, the raw materials used by Turati Boiseries possess the True Wood certification that guarantees the authenticity of the products and the physical characteristics of the wood used to produce them, helping the customer in distinguishing imitations.
Wood is a precious resource, not only for artisans but for the entire population. To be able to use safe raw materials in full respect of the environment is Turati Boiseries' mission. The brand, in all its tailor-made projects, is able to combine design with the needs of its customers.
COMPANY PROFILE
Since the 1920s, Turati has grown into a territory that is firmly tied to its furniture tradition, and then has consolidated in Turati Boiseries over 50 years ago positioning itself as a symbol of the historic artisan tradition in the furnishing universe.
Today, the company is a reference point in the industry for its ability to combine artisanship and Italian excellence, great experience and research, new ideas and revival of classical canons.
An authentic process stemming from a structured business venture that still retains an artisanal soul made of people who are so passionate about their job to create an added value, and never retreat in front of the most courageous experimentations and sophisticated requests coming from a clientele that only demands what is best and exclusive.
By anticipating trends and evolution in terms of classical furnishing, Turati Boiseries has created a line of furniture solutions that is based on the experience of its valued artisans.
This is the reason why, today, boiseries by Turati are still an important chapter of classical furnishings: the exceptional modularity of the elements supports the original classical setting of the compositions, thus offering a wide range of options and comparisons with the individual aesthetic and cultural needs. The collections by Turati are designed for the various types of accommodation: day and night, offices, shops and meeting rooms, libraries, coffered ceilings, doors and furnishing accessories.