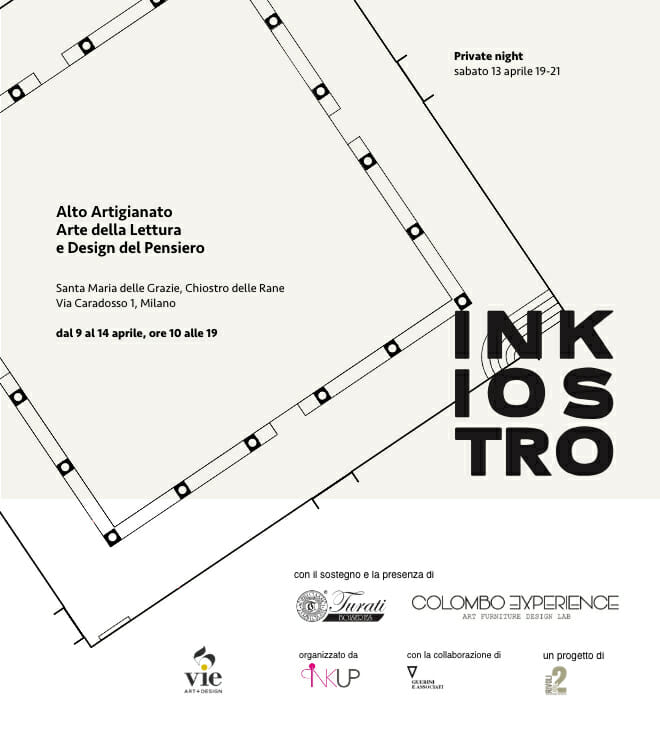 TURATI BOISERIES AT THE "CHIOSTRO DELLE RANE" DURING MILAN DESIGN WEEK
An eclectic and prestigious style has been chosen by Turati Boiseries for the 2019 edition of the Fuori Salone.
In perfect continuity with the style of the Company from Mariano Comense, an extraordinary place such as the Chiostrino delle Rane has been selected, part of the convent complex of the Basilica of Santa Maria delle Grazie, the backdrop to a wonderful display of high artisan craftsmanship – in line with the Dominican tradition – focusing on the importance of culture and thought in the creation of fine furnishings.
Under the fifteenth-century vaults of the Bramantesque arcades, thanks to the collaboration with Colombo Interiors and the Rivoli2 Association for contemporary art, a sophisticated study has been rebuilt, tailored to a homeowner who collects books and, above all, shares them by spreading, through knowledge, the idea of ​​a possible new humanity. This is a cosy place where the public, in the shadow of the majestic tribune designed by Donato Bramante as mausoleum of Duke Ludovico il Moro (the Moor) at the end of the fifteenth century, is invited to experience moments of thought and relaxation.
The bookcases created in the finest wood by Turati Boiseries, a Company that since the 1920s has shown that it knows exactly how to combine artisan values ​​with Italian excellence, revisiting classic styles, are combined with the more contemporary furnishings from Colombo Interiors, distributed in the space in order to allow visitors to enjoy the beauty and tranquillity of the place where the book itself is elevated to an essential tool of knowledge. In fact, the project involved the collaboration of Guerrini Editore, providing the public with a careful selection of its publications. The installation is part of the "5Vie" art district programme.
As the authentic artisan tradition dictates, the Turati bookcases are made-to-measure and created to furnish an interior with the charm of the two collections from Mariano Comense. Starting with this jealously guarded, absolutely personal traits, the Turati bookcases come to life. There is a fantastic sculptural appeal, today more than ever they become must-haves even in abodes with a modern mood, giving life to mixtures of different styles and eras, as well as the latest design trends. 
The charm of the finest wood types, the oldest and most precious of materials, reveals itself in its most natural aspect, or in decisive colours that subvert any classic standard. From simple modules with shelves, passing through solutions with niches, chests, columns, details and finishes in gold leaf, up to bookcases integrated into the wall.  Turati's creations are the result of a sophisticated and meticulous production process that is truly customised and made-to-measure. 
Whether designed to complete an interior, or as tried and true structural element that serve as partitions, the elegance of Turati's creations translates into an innate sense of pure chic style. 
IN – KIOSTRO
High artisan craftsmanship, Reading, Art, and Thought at the Fuori Salone 2019
From an idea of Cultural Initiatives, Rivoli 2
Chiostro delle Rane – Basilica di Santa Maria delle Grazie
Via Caradosso 1, 20100 Milano
From April 8th – 14th, 2019