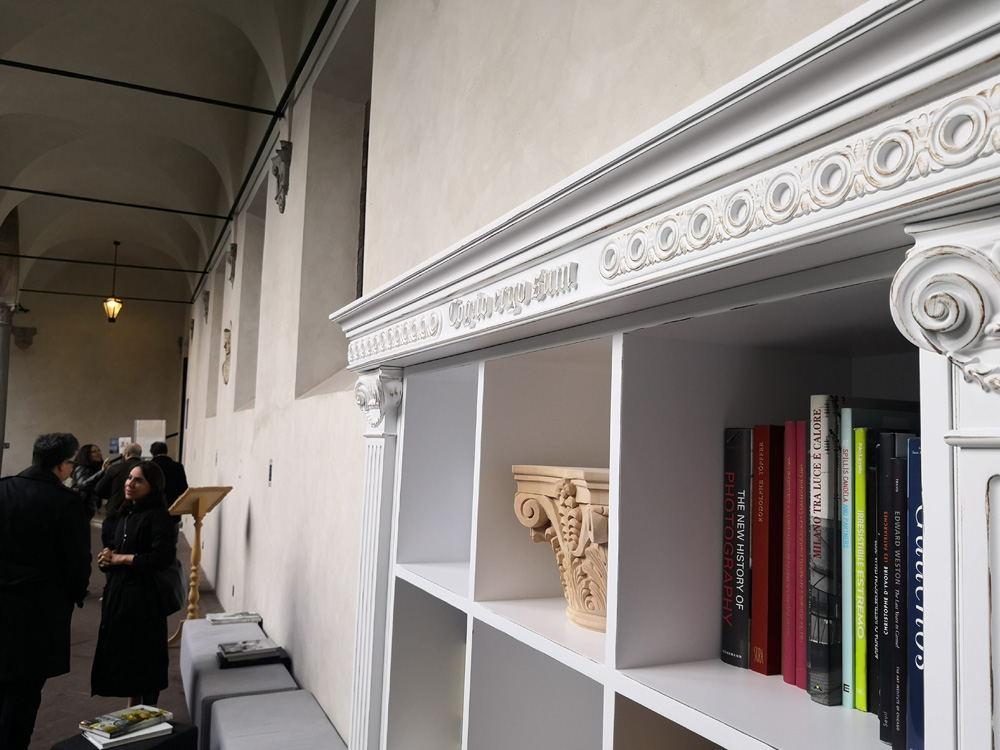 GENIUS AND CULTURE TAKE CENTRE STAGE AT THE FUORISALONE OF TURATI BOISERIES
An eclectic and sophisticated event to promote a new culture behind boiserie and wainscoting.
Mariano Comense, April 16th, 2019 – Genius and Italian culture were the two poles within which Turati Boiseries' presence at Milan Design Week 2019 developed.
The common theme, that fil rouge, of this year's Fuorisalone was the 500th anniversary of the death of Leonardo Da Vinci. For this reason, this company from Mariano Comense chose to celebrate the anniversary by positioning its event in a highly symbolic location: the Chiostrino delle Rane (Cloister of Frogs) of Santa Maria delle Grazie, home to the artist's legendary "The Last Supper".
High artisan craftsmanship was the true protagonist of the exhibition, and in the wake of the Dominican tradition, was aimed at placing the importance of culture and thought at centre stage.
Under the 15th century vaults of the Bramantesque arcades, thanks to the collaboration with Colombo Interiors and the Rivoli2 Association for contemporary art, a sophisticated study has been rebuilt, tailored to a homeowner who collects books and, above all, shares them by spreading, through knowledge, the idea of ​​a possible new humanity. This is a cosy place where the public, in the shadow of the majestic tribune designed by Donato Bramante as mausoleum of Duke Ludovico "il Moro" (the Moor) at the end of the 15th century, is invited to experience moments of thought and relaxation.
In perfect continuity with the theme of the In-Kiostro event shared with these partners, the bookcases created by Turati Boiseries have been masterfully combined with the wonderful contemporary furnishings of the Colombo Experience. This beautiful pairing allowed visitors to enjoy the beauty and tranquillity of a place where the book, provided by Guerini Editore, becomes a part of design and is seen in this light as a fundamental tool of knowledge. 
The layout was designed with the aim of celebrating the authentic artisan tradition expressed by these bespoke Turati bookcases, created in line with the charm of the two collections made in Brianza. This all begins with these jealously guarded and truly personal traits of these furniture pieces, coming to life with the feel of a sculpture.  Today, more than ever, these furnishings become must haves even in abodes with a modern look, breathing life into mixes of different styles and eras, just as the latest design trends dictate.