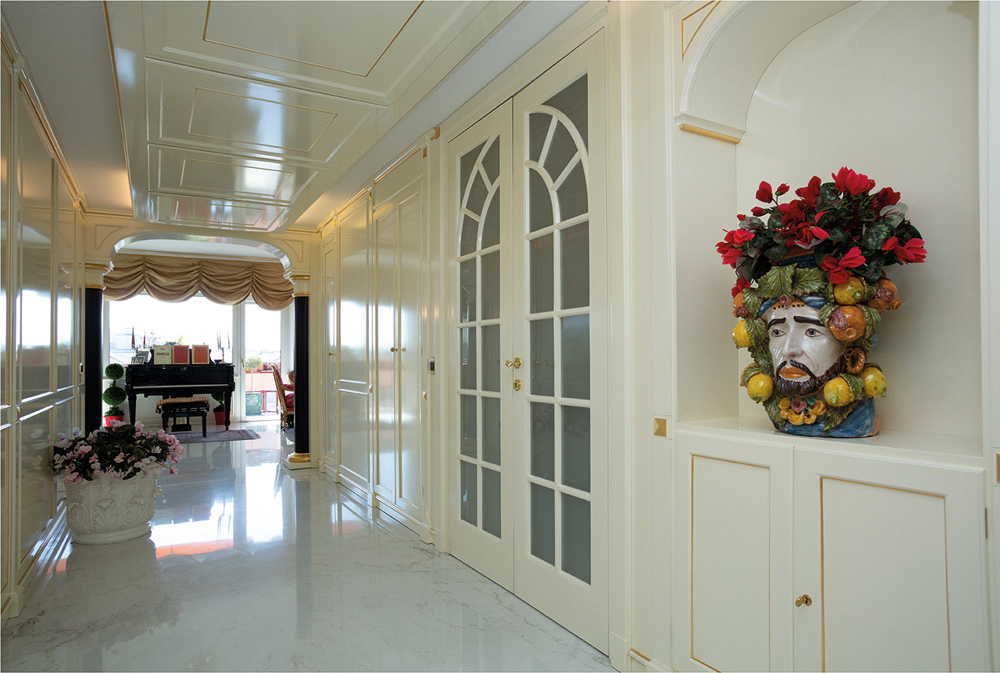 DOORS AND WAINSCOTING: AN EYE-CATCHING COMBINATION WHERE WOOD TAKES CENTRE STAGE
The wood-panelled walls – where passages among the different rooms of the abode are masterfully integrated – come together to create one-of-a-kind furnishings that play on the wood grain,  decorations and colours. As a consequence, Turati Boiseries, through full-height, half-height or combined solutions, has created the ideal setting for rooms destined to become part of the history of fine Italian design.
Fluid and wonderfully optimized, from their conception to their installation, this is how the interior pathways of a home are conceived by this historic company from Mariano Comense.  We consider the creation of these two elements – doors and wainscoting – as an inseparable pairing, masterfully orchestrated by talented master cabinet-makers who can find unique touches and unconditional charm behind an "empty" space.
These wooden walls, designed and built in the heart of Brianza, are "world-class" furnishing solutions, defined by a strong identity that truly sets them apart with a unique soul that guides their creation. The tailor-made custom expertise of Turati Boiseries marks the foundations of a company with those bygone skills that challenge the passing of time, in the tireless search for forms and solutions that are always able to surprise and conquer your heart.
Our doors and wainscoting conceal and reveal, and with a unique expressive quality they highlight that perfect balance between past and present, recreating a timeless feel in interiors that rise up to become true works of art.