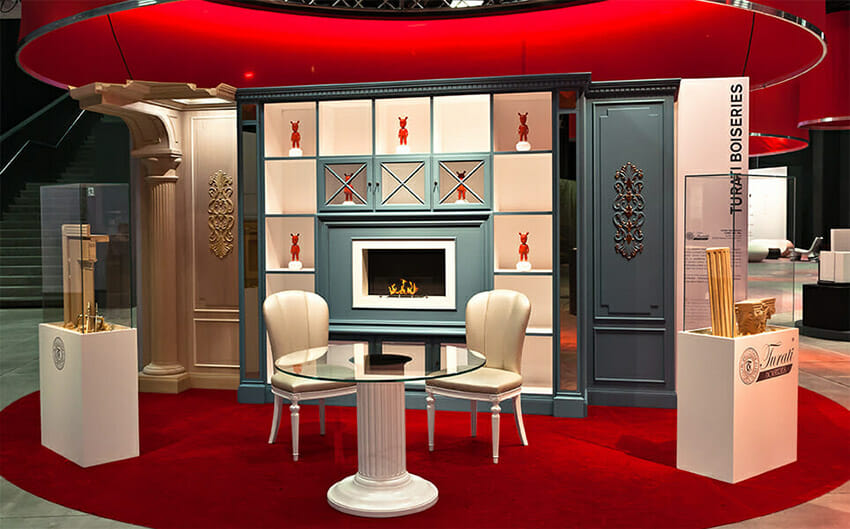 Distinctive luxury with Turati Boiseries
This Turati Boiseries furnishing solution, created for an eclectic living room with a strong personality, is aimed at offering itself as an icon of that fantastic connection between traditional and modern style. 
Presented as a pre-release at the Space&Interiors 2018 during the Milan Design Week, this wall solution wonderfully reinterprets classic style without forgetting the origins and tradition of the wainscoting that is beautifully unveiled by the decorative details and precious finishes. Turati's unsurpassable research has found new creative life in the creation of this unique piece, a multifunctional solution designed for exclusive abodes and high-level offices. The company exalts that perfect combination of classic elements and contemporary design, opening up new horizons through a tried and true tribute to solid and elegant luxury whose first goal is to thrill and excite.
The foundation of this creative concept is the desire to bewitch the senses – the nuance of tea leaves combined with the silky finish offer your eyes and touch a decisive and bold look, that is also quite discreet, without any exaggeration, perfectly overcoming trends and time. The result is a contemporary appeal, created by this dynamic, versatile creation with a classic spirit and contemporary practicality.
This wall solution is the star of the new ClassMode catalogue, designed for those who shy away from minimal design and for those who love living surrounded by beauty in the broadest sense of the word. This gives rise to the leitmotiv of the new catalogue: Home Lifestyle, in order to seal a concept of home-living that is truly contemporary, rational and functional – yet at the same time does not deny the aesthetic pleasure of fine furnishings. These eclectic and personal solutions are perfect for every room in the house, in which that unmistakable Turati style acts as a counterpoint to the modern feel, creating true contemporary works of art, destined to become a fundamental part of the history of fine Italian design.