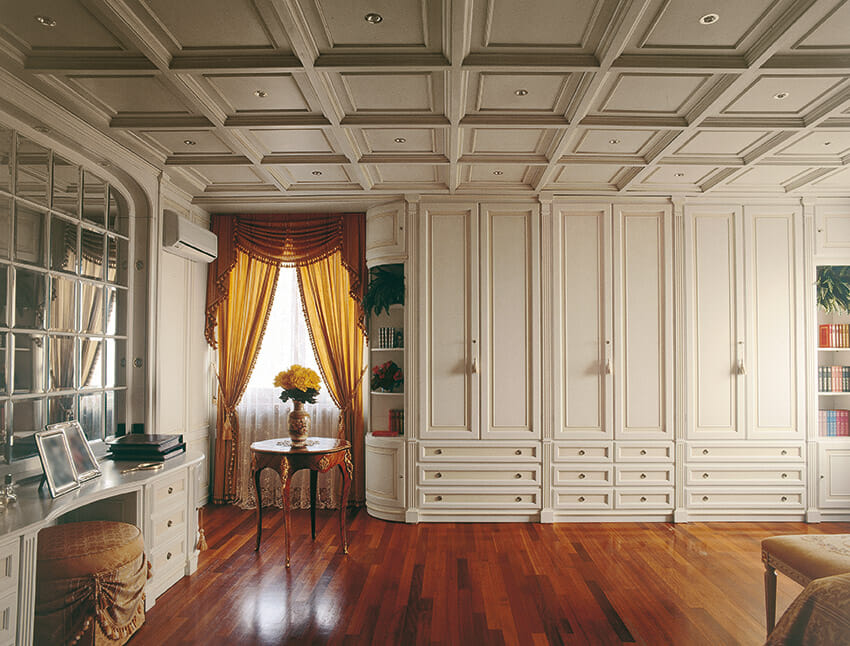 COFFERED CEILINGS MADE IN TURATI BOISERIES
Getting lost in the chromatic tones of this beautiful wood, letting yourself be won over by the three-dimensional charm of a fine coffered ceiling is the privilege of those who, looking upwards, discover the personalized wood finishes for ceilings created and designed by Turati Boiseries.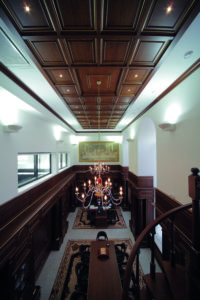 The sartorial and customized expertise of this company from Mariano Comense, which can be defined in all respects as the art of cabinetmaking and woodworking combined with the most advanced manufacturing technology, gives life to furnishing solutions of the highest level and utmost elegance, finding its perfect expression not only in furniture or boiseries on the walls of the abode, but also in fine coffered ceilings made by the masters of this company in the Brianza region, following the area's long and illustrious tradition.
The clear reference made to period buildings and bygone sophistication come together to make these coffered ceilings an element of authentic value that gives a formal completeness and true elegance to every room in the house. The stylistic grandeur of the wood ceilings fit perfectly even in truly contemporary settings. In fact, the false ceilings designed and built by Turati Boiseries are perfect to meet the different needs for style – shabby chic, understated classic, baroque as well as modern or contemporary – giving character, personality and uniqueness to the interior, for a spectacular linear effect or contrast with the rest of the abode furniture.
Side by side with the unmatched aesthetic value created by that timeless soul that only wood can give, the false ceilings also offer significant practicality, since they allow you to reduce the height of the room in question, greatly improving the thermal and acoustic comfort.
These coffered ceilings are the result of meticulous design as well as the finest artisan workmanship of master craftsmen from this historic company in Mariano Comense. Each creation is absolutely unique, the end result of the choice, crafting, and treatment of the finest wood, ensuring beauty and practicality that come perfectly together with classic style and the high level performance of contemporary design.