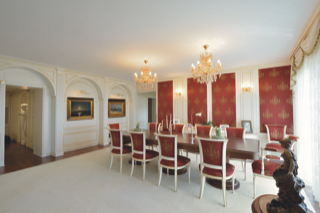 AUTHENTIC CHARM IN THE LIVING ROOM
The living room is par excellence the interior for spending time with friends and relaxing, our favourite place to welcome guests, and the place that often dictates the style of the other rooms of the house. 
The living room is exactly where Turati Boiseries has decided to stage its mastery in the creation of furniture compositions, with a strong emotional personality, interpreting the feel of the classic in a contemporary key, using the finest wood types and high-quality materials.
Bookcases, tables, chairs, consoles and dressers designed by the company in Mariano Comense, come together to express the feeling of a solid and elegant luxury, free from the tyranny of passing trends. Elegance and glamour are the diktats that guide the creation of compositions that aim to embody your needs for hospitality and tradition, combining solutions that satisfy even the most modern technlogical needs. The result of this Turati production – where fine Italian craftsmanship is the true foundation – is elegant, sophisticated but also comfortable living rooms where you can relax or spend time with your loved ones.
Chromatic combinations, different tactile materials in which wood is the true star, come together to create almost metaphysical effects, the result of a powerful design in which the creative tension is always balanced between the reinterpretation of the past paired with contemporary practicality.