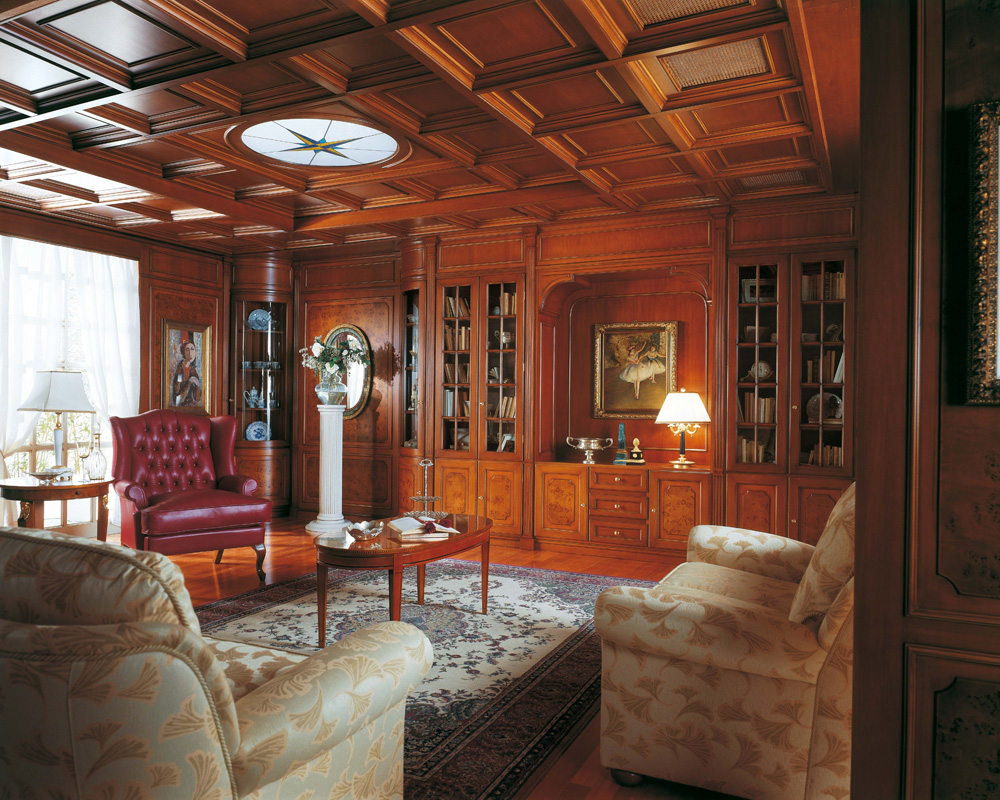 THE ART OF WAINSCOTING: THE TRUE VALUE OF A COFFERED CEILING
Wood's soulful, timeless elegance is brought back into vogue by the master cabinetmakers and craftsmen of the historic furniture company, Turati Boiseries, in order to enhance the entire abode, enveloping you and your guests with meticulous workmanship. 
For this company from Mariano Comense, the ceiling aspires to that unmatched, exclusive luxury offered by the coffers, created with the finest workmanship in Brianza.
The privilege of being able to look up and enjoy the thousands of different facets of this wood ceiling is something reserved for those who want to enhance their abode in every aspect, without being satisfied with the usual wall coverings or wainscoting. 
The priceless value of boiserie made with the finest types of wood, carefully selected and crafted by Turati, adds a great deal of prestige to the home, from all points of view. This is how the coffered ceiling becomes a distinctive element that enhances the entire abode.
Dispelling the myth that this type of sophisticated decoration is only suitable for classic homes or period buildings, we can now see how the magical workmanship used to create this ceiling can be defined as the art of cabinet-making. This craftsmanship breathes life into the hidden characteristics found in the raw wood, offering the interior a tried and true work of art that arises from the vast experience of this Italian company. This reference to bygone elegance perfectly meets the needs and styles of contemporary living, guaranteeing – in every home and in any situation – the best that wood can offer. 
The room, and consequently the entire home, takes on an even greater and inestimable value for those who live there.  Homeowners surround themselves with exclusive beauty and, at the same time, economic prestige that should not be underestimated. Because those who choose these ceiling-mounted works of art in their own homes also choose something that acquires additional value day after day, an investment for themselves and for the future.