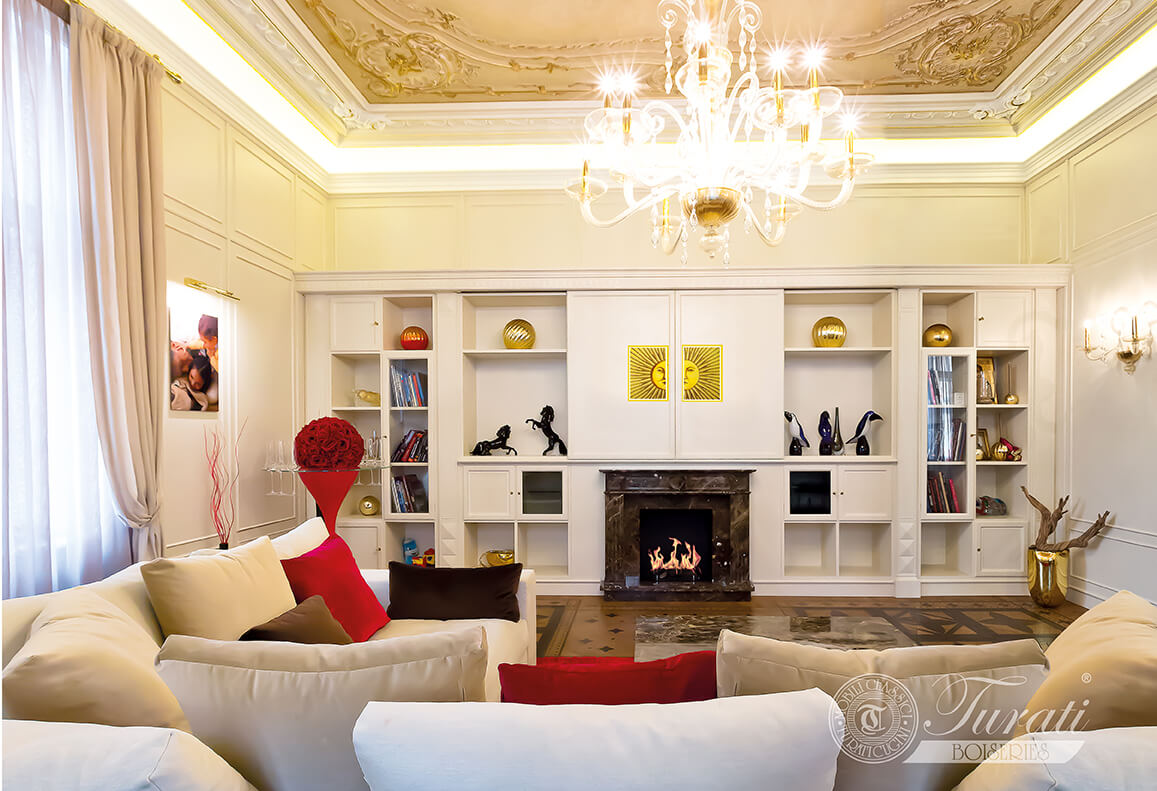 FINE TASTE AND BALANCE FOR A LIVING ROOM IN VIENNA CREATED BY TURATI BOISERIES
A sophisticated residence in the heart of Vienna plays host to the creation of wonderful Italian style. The challenge for our company from Brianza was that of developing a rational and practical living room solution.  However, at the same time, this environment does not deny itself that fantastic aesthetic pleasure, that pure beauty, by combining a play on symmetries and perspectives with the classicism and tradition of this historic building in the Austrian capital. Here a true classic soul, defined by the incredible wainscoting, comes perfectly together with a contemporary approach that meets the practicality and needs of modern and sought-after elements. The living room is the perfect synthesis of balanced, authentic craftsmanship that stands for sophisticated luxury, inspired by elegance and good living. Turati Boiseries shows how classic style can be transformed into modern living, tracing back paradigms of bygone perspective and symmetries, with a solid and complete style in which all the elements coexist with a truly natural feel.
This new mood is entirely oriented towards the uniqueness of these solutions, tried and true custom-made designer pieces that are the symbol of Made in Italy.  In turn, they become a celebration of a new way of stylish living. The bookcase from the ClassMode selection also offers integrated speakers and sliding doors for TV that can be opened by remote control. 
ClassMode Collection revolutionizes the concept of classic furnishing by going beyond traditional organizational rules, through integrated and tailor-made solutions that can be coordinated at will, offered in numerous colours and finishes. The fine details of that unmistakable Turati style act as a counterpoint to the modern feel, giving rise to real contemporary masterpieces. The careful balance between modern and classic finds a solid base in this creation that aims at innovation and the continuity of tradition. 
The Milano Wainscoting with the tow-sided arch is a tribute to sober, elegant luxury, aimed first and foremost at creating pure excitement. The result is that of a bold yet staid living room, wonderfully capable of overcoming passing fashions and time.
These wooden claddings, designed and built in the heart of Brianza, are world-class furnishing solutions, drawing on the values of tradition, craftsmanship and skill in the art of creating solutions with a timeless style, yet revisited with creativity and respecting the standards of the past.
A contemporary mood defines this dynamic, versatile creation in Vienna. This is how Turati Boiseries guarantees the utmost consistency and continuity with the history of the interior, relying on the rich dialogue created between architecture and interior design.